LED Module Injection Molding Machine
PROFESSIONAL TEAM GLOBALIZATION SERVICES
Dongguan Tiancheng Machinery Co., Ltd., established in 1999, locates in Dongguan City (world-famous manufacture base), covers an area more than 8000m, owns advanced facilities, professional technical team & modern manage system. Product range covers from standard type, rotary, slip form, two color, Bakelite, BMC, liquid silicone, to plastic injection around equipments such as Material Dryer, suction feeder, mould design, automatic mechanical.
LED Module Injection Molding Machine
The LED module is arranged on the top of the building or the wall surface by using words or identification as a medium , which not only can represent the daytime effect , but also can utilize the LED as the light for emitting light source , and the LED lighting application control system can be used for dynamic video control of the characters or logos , and the LED light source module has become one of the most important choices of the enterprise to show the self - image in places where the entertainment atmosphere is stronger .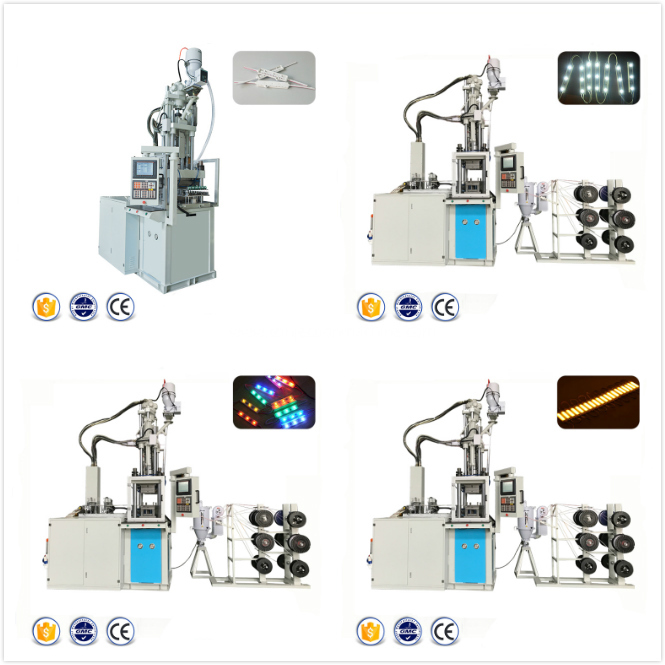 LED Module Injection Molding Machine has been research and development by Tiancheng Machinery in year 2016. This machine adopted vertical mold clamping and vertical injection molding design, with 4-stage temperature control/injection speed/back pressure adjust without stages etc. With the progress and development of technology and the development of the R&D technical ability, LED Module Making machine was equipped with automatic wire pulling device. The automatic wire pulling device adopts servo motor to drive the high-precision ball screw design with an accuracy of ±0.01mm. And it can adjust the distance freely between each module, which reduces the time of manual measurement. The production cycle time is shortened from the original 20 seconds by manual operation into 12 to 15 seconds, and the mold cavities are increased from 1 cavities into 12. This greatly increases production output and realizes automatic production as well as operation of the whole machine. In addition, the design of automatic absorption for material saves labor force and improves work efficiency.
Since 2016, LED Module Injection Machine has become one of the hot selling products of Tiancheng machinery, with more than 100 units shipped each year. And it exported to Germany, Japan, India, Malaysia, Vietnam, Egypt and other countries. It is a priority for many buyers.
DONGGUAN TIANCHENG MACHINERY CO., LTD.
Business Type:Manufacturer , Distributor/Wholesaler , Trade Company
Product Range:Injection Molding Machine , Plastic Extruders , Rubber Product Making Machinery
Products/Service:Injection Molding Machine , Vertical Injection Molding Machine , Double Color Injection Molding Machine , Silicone Rubber Injection Molding Machine , Lsr Injection Molding Machine , Rotary Table Injection Molding Machine
Certificate:CE , ISO9001
Company Address:1st Yuhua Road, Juzhou Village, Shijie Town, Dongguan, Guangdong, China
Next:
Tiancheng LED Cup Molding Machine