LED Cup Molding Machine
COMPANY PROFILE
We lived surrounded by plastic products, for help manufacturing various plastic products, Dongguan Tiancheng Machinery company focus on research and development for vertical plastic Injection Molding Machine since 1999. Over 15 years manufacturing, research and testing, Tiancheng really understand full story of plastic injection, especially for insert injection molding processing. TC developed a variety of energy-saving models, takes in advantages of different areas to meet the client`s professional requirements of different products. As a most trusted partner, we provide customers with a wide range of professional services, reaching the win-win philosophy of Tiancheng, we sincere, you succeed.
LED Cup Molding Machine
Plastic Injection Molding is the injection molding of plastic parts with installation kit. The manufacture of plastic lamp cups, which means plastic and aluminum cup accessories injection molding components. LED lamp cup is composed of heat sink shell with high thermal conductivity, which can effectively reduce light loss and astigmatism. And the Led lamp cup aluminum alloy cup body can crashproof, and is good heat dissipation. The surface of led lamp cup has two kinds of effects: rough and smooth. Tiancheng has rich and successful experience in the research and development of Plastic Injection Molding Machine.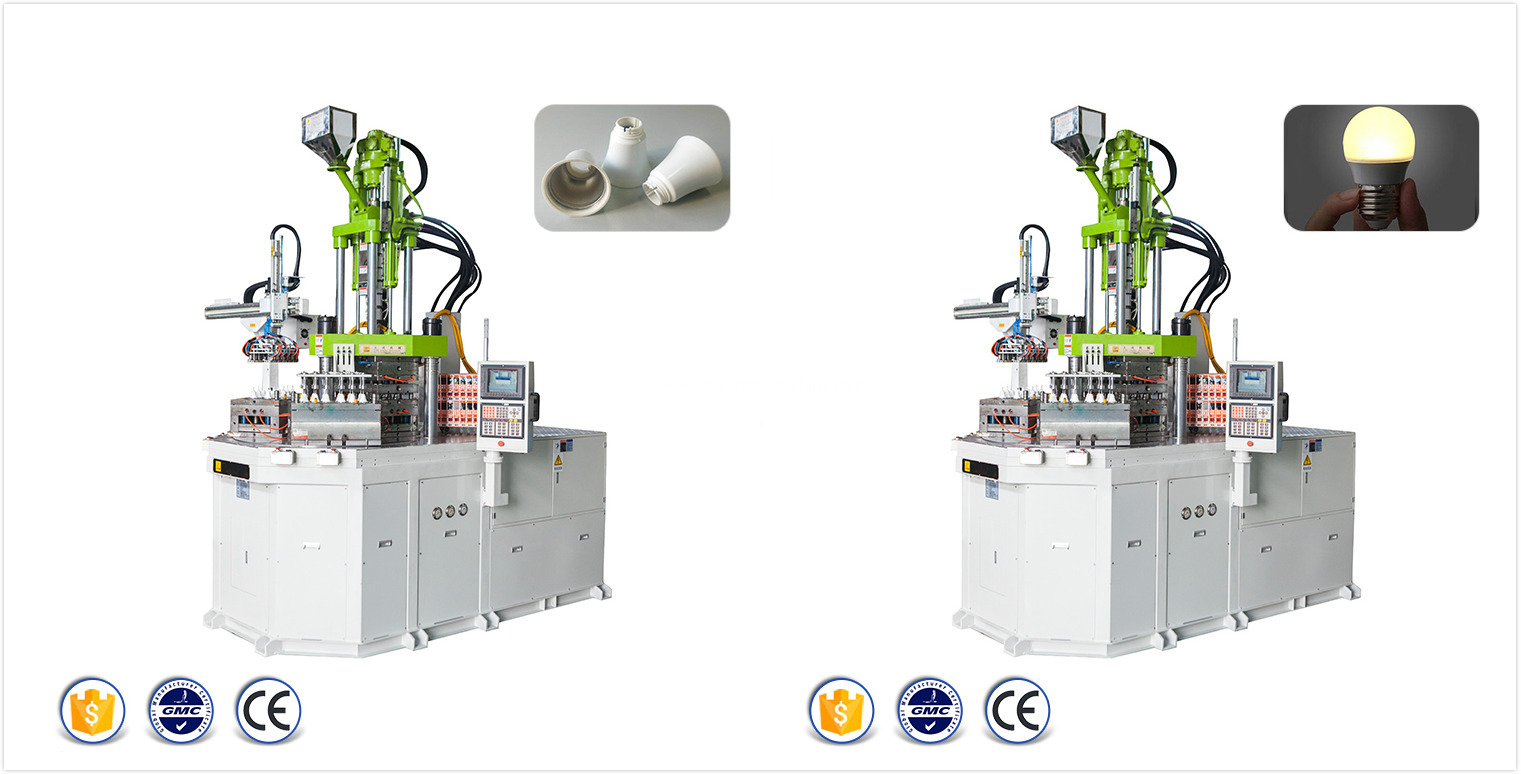 LED Cup Injection Molding Machine has been research and development by Tiancheng Machinery in year 2017. This machine adopted vertical mold clamping and vertical injection molding design, and it is a best- selling product of turntable series in TC. It is assemble one upper die and three lower die. Three lower molds produce continuously by rotating the turntable table by 120 degrees horizontally, and the turntable rotation is controlled by an independent servo motor, with a positioning accuracy of 0.16mm. The utility model is characterized in that the positioning of the disc surface is locked with a fixed pin, and the positioning of the disc can be ensured, so that the upper and lower mold can form more accurate mold. At the same time, it can be equipped with automatic embedding and taking out so that the production cycle is shortened from 30 seconds 1 mould to 15 seconds 1 mould. It can improve productivity and achieve the automatic operation of the whole machine, and ensures the safety of the staff. Besides, it can adopt vibrating screen to quickly separate the overlapping aluminum cups, which achieving full automation operation. It not only reduces manpower, but also facilitates the Mechanical Hand to take and put aluminum cups.
Since 2017, LED Cup Molding Machine has become one of the hot selling products of Tiancheng machinery, with more than 50 units shipped each year. And it exported to Germany, Japan, India, Malaysia, Vietnam, Egypt and other countries. It is a priority for many buyers.
DONGGUAN TIANCHENG MACHINERY CO., LTD.
Business Type:Manufacturer , Distributor/Wholesaler , Trade Company
Product Range:Injection Molding Machine , Plastic Extruders , Rubber Product Making Machinery
Products/Service:Injection Molding Machine , Vertical Injection Molding Machine , Double Color Injection Molding Machine , Silicone Rubber Injection Molding Machine , Lsr Injection Molding Machine , Rotary Table Injection Molding Machine
Certificate:CE , ISO9001
Company Address:1st Yuhua Road, Juzhou Village, Shijie Town, Dongguan, Guangdong, China
Previous:
Tiancheng LED Module Injection Molding Machine
Next:
Tiancheng Dental Floss Injection Molding Machine