Garment Injection Molding Machine
Company Profile
Tiancheng established in year 1999, locates in Shijie Town Dongguan City which is the world-advanced processing facilities and professional technical team, plus modern management system. Abundant overall ability ensures Tiancheng`s advantages in technical ability, machine quality as well as competitive price. The persistent pursuit in high-quality service, which makes Tiancheng become a reliable brand name in the injection molding machine industry. Tiancheng has a rich and successful experience in Plastic Injection Molding, multi-color multi material injection molding, precision micro injection molding, thermosetting (bakelite, BMC) injection molding, liquid silicone (LSR) injection molding and precision micro injection molding. Our products are widely used in four major areas: optical lighting, electronic appliances, machinery and equipment, medical equipment.
Garment Injection Molding Machine
Garment hang tag is widely used in the clothing industry, it is an integral part of clothing accessories and it has the brand effect. It is mainly used for hanging clothing tag, which is a direct link between clothing and clothing hanging cards (clothing brand representation, washing logo, price label, etc.). String hang tag is roughly divided into rectangles, square, circular, oval and other rules according to the shape. Different cloths used different styles hang tag. For example, for the suit, the garment tag is usually use of rectangular, square and other three in one granulator. Comply with the market development demands, Tiancheng machinery developed a garment injection molding machine over 10 year, unlike in the past, this machine research and development with advanced alarm and automatic wire drawing device machine in year 2018.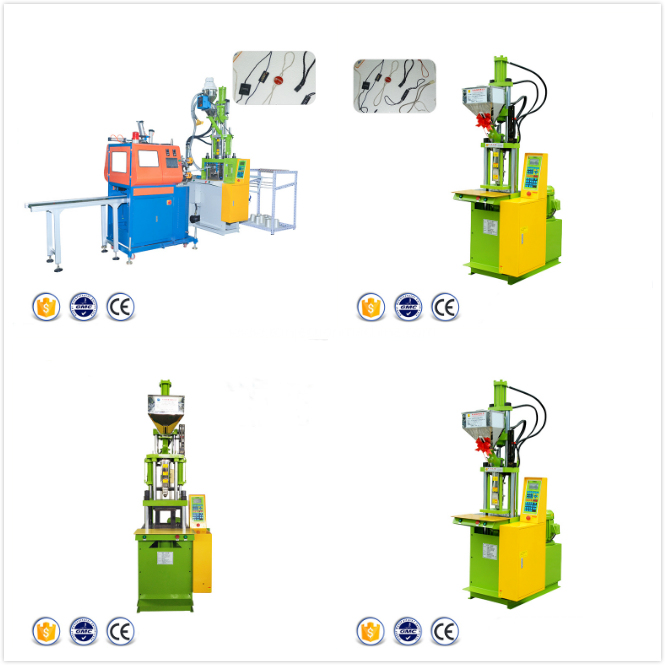 Garment injection molding machine adopts vertical mold clamping and vertical injection molding design, 3-stage temperature control/ injection speed/ back pressure, adjust without stages etc. Different from the past, our machine is equipped with advanced alarms, if the line of hang tag is broken during operation, the alarm can be issued to alert the staff to reinstall the wires. In addition, the automatic drawing device is used to automatically pull the hang tag wires, also can cut the wire and separate the hang tag automatically. Therefore, the production forming cycle is shortened from the original manual operation of 20 seconds to 9-12seconds. Maximum output of each mold can be achieved to 40 lines, which greatly improve production output and realizes full machine automation. Our company can add automatic stamping function according to customer`s product demand and multicolor optional. At the same time, it can assemble transmission belt to transmit the finished product independently, just need a staff to pack and replace the finished product boxes, which reduce the labor force greatly. It is a priority selection for a large number of buyers.
Since 2000, Garment Injection Molding Machine has become one of the hot selling products of Tiancheng machinery, with more than 200 units shipped each year. And it exported to Germany, Japan, India, Malaysia, Vietnam, Egypt and other countries. It is believed that more buyers will be attracted by the considerable profits for the Garment Machine equipped with automatic wire drawing device.