Dental Floss Injection Molding Machine
COMPANY PROFILE
Dongguan Tiancheng Machinery Co., Ltd. has super strong R&D, with several patent applications of automatic production auxiliary equipments (injection molding machine around). With thrifty working style, aggressive investment in production facilities and work flow planning, our company offer customer highly qualified machines and molds at most reasonable price. Customer mainly covers over Asia, Southern America, Eastern Europe, including Samsung, Flextronics, COSONIC, CLIP, etc.
Dental Floss Injection Molding Machine
According to the investigation, the toothbrush can only brushed 70% of the tooth surface, and the dental floss can make up the deficiency of the toothbrush. Dental floss is especially suitable for the middle-aged and the young people without large dental slit space. So the dental wire rod is the commonly used household toothed product in Europe and America today. Most of the dental floss is disposable articles. It cannot be used repeatedly, because there are many dirt and bacteria on the used dental floss, it cannot be cleaned in ordinary way (water rinsing, etc.). Therefore, Dental Floss Injection Molding Machine with considerable profit is welcomed by manufacturers.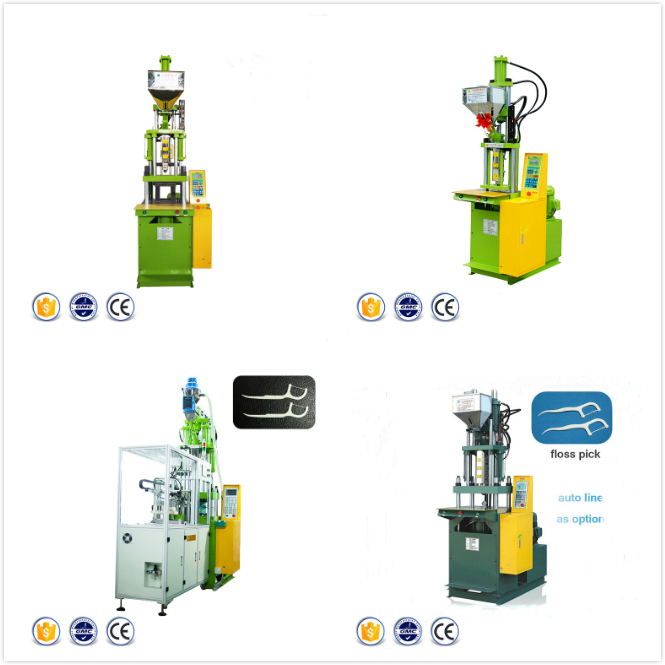 Dental Floss Injection Molding Machine has been research and development by Tiancheng Machinery in year 2017. This machine adopted vertical mold clamping and vertical injection molding design, with 4-stage temperature control/injection speed/back pressure adjust without stages etc. With the progress and development of technology and the development of the R&D technical ability, Dental Floss Pick Making machine was equipped with automatic cable pulling and runner cutting devices. The automatic cable pulling and runner cutting devices adopt famous brands cylinders, run more stable and reliable in production. The drawing line clamps the product, so as to improve the stability. The waste after demolding is slid to the recovery box through the nozzle automatically, which saves manpower. This machine equipped with 16 suction cups suck up the finished products and transport them into the front two rows columns of collection area. It realizes automation, improves work efficiency and increases the production capacity. When the front two rows columns have been collected, it can move along to the back two rows columns automatically and conveniently. Workers can quickly remove finished products of the first two rows with high safety factor.
Since 2017, Dental Floss Injection Machine has become one of the hot selling products of Tiancheng machinery, with more than 200 units shipped each year. And it exported to Germany, Japan, India, Malaysia, Vietnam, Egypt and other countries. It is a priority for many buyers.
DONGGUAN TIANCHENG MACHINERY CO., LTD.
Business Type:Manufacturer , Distributor/Wholesaler , Trade Company
Product Range:Injection Molding Machine , Plastic Extruders , Rubber Product Making Machinery
Products/Service:Injection Molding Machine , Vertical Injection Molding Machine , Double Color Injection Molding Machine , Silicone Rubber Injection Molding Machine , Lsr Injection Molding Machine , Rotary Table Injection Molding Machine
Certificate:CE , ISO9001
Company Address:1st Yuhua Road, Juzhou Village, Shijie Town, Dongguan, Guangdong, China
Previous:
Tiancheng LED Cup Molding Machine
Next:
Tiancheng Garment Injection Molding Machine